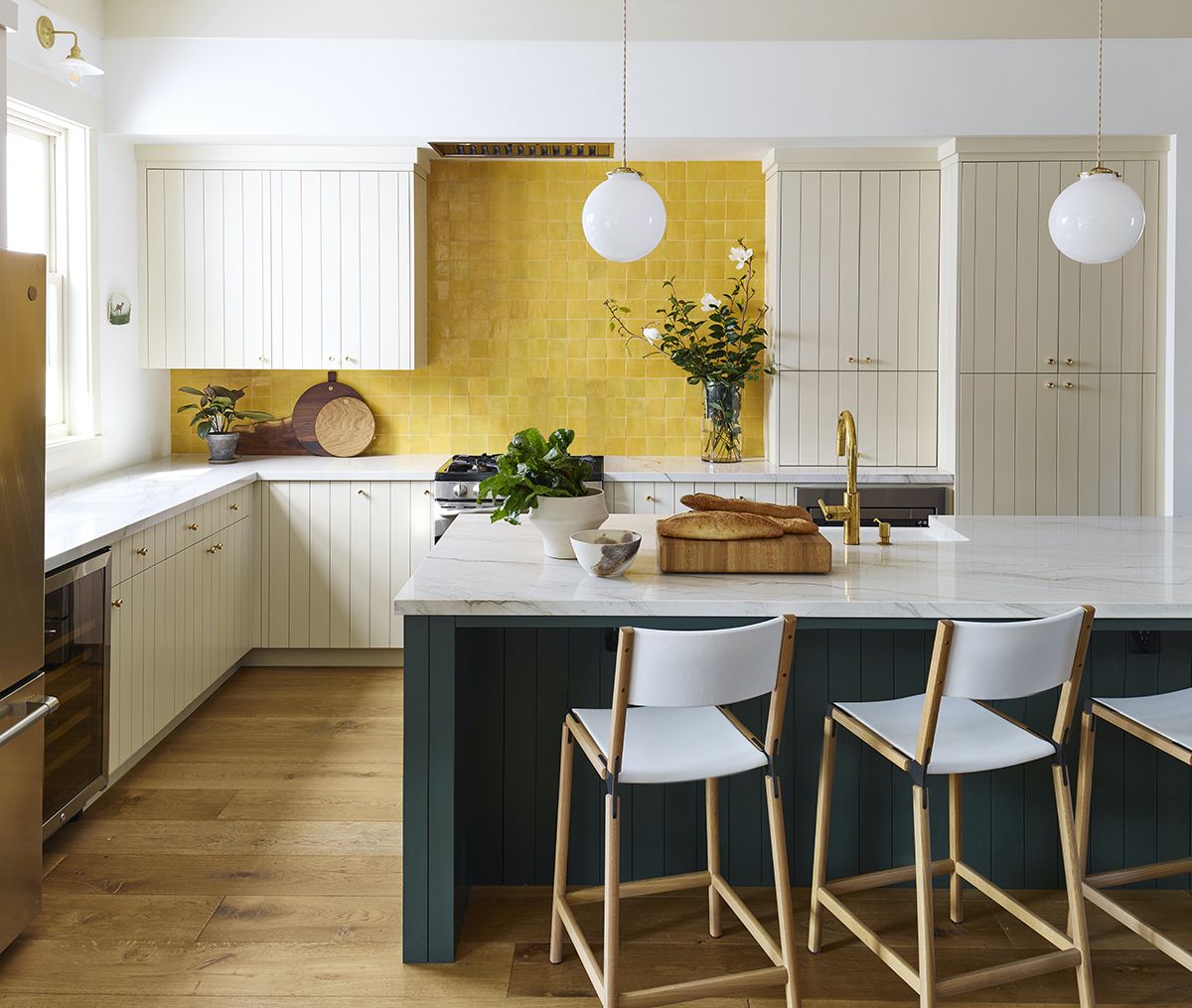 10 yellow kitchen ideas – new ways to use this uplifting shade
Yellow kitchen ideas come in many different shades. Lemon, mustard, honey, sun… so many subtle variations in choosing the right yellow for your cooking. When in doubt, a heritage shade is an easy win. When designing the colourway for her collaboration with Very Simple Kitchen, Swedish designer (and admittedly addicted to colors) Tekla Evelina Severin created her own dark ocher shade. For inspiration, she turned to golden yellow which is commonly used to soften the exteriors of Swedish homes, making them instantly inviting. "It's warm and vibrant, and has been used to paint houses for centuries," she says of the classic color.
A strong yet understated shade like the one developed by Tekla will instantly increase the cozy factor and set a mood, this is one of the easiest kitchen color ideas to achieve. If you prefer a color at the paler end of the spectrum, try softer sherbet tones. These will brighten and light up, and can be used to select smaller details or as a subtle color wash on walls or cabinets.
For a touch of sunny yellow with lasting appeal, try a textured tile wall. In a California kitchen designed by Lynn K. Leonidas of Landed Interiors, a strip of saffron yellow tiles sings against a clean shaker-style background of off-white and green. "The palette was chosen for its natural cheerfulness," says its designer, who used the color variation between the handmade zellige tiles to soften the color contrast.
Whatever your thoughts on decorating with this cheerful hue, we've compiled some creative ideas to inspire you to say yes to yellow and invite some sunshine into your home.
Yellow kitchen ideas
1. Honey shades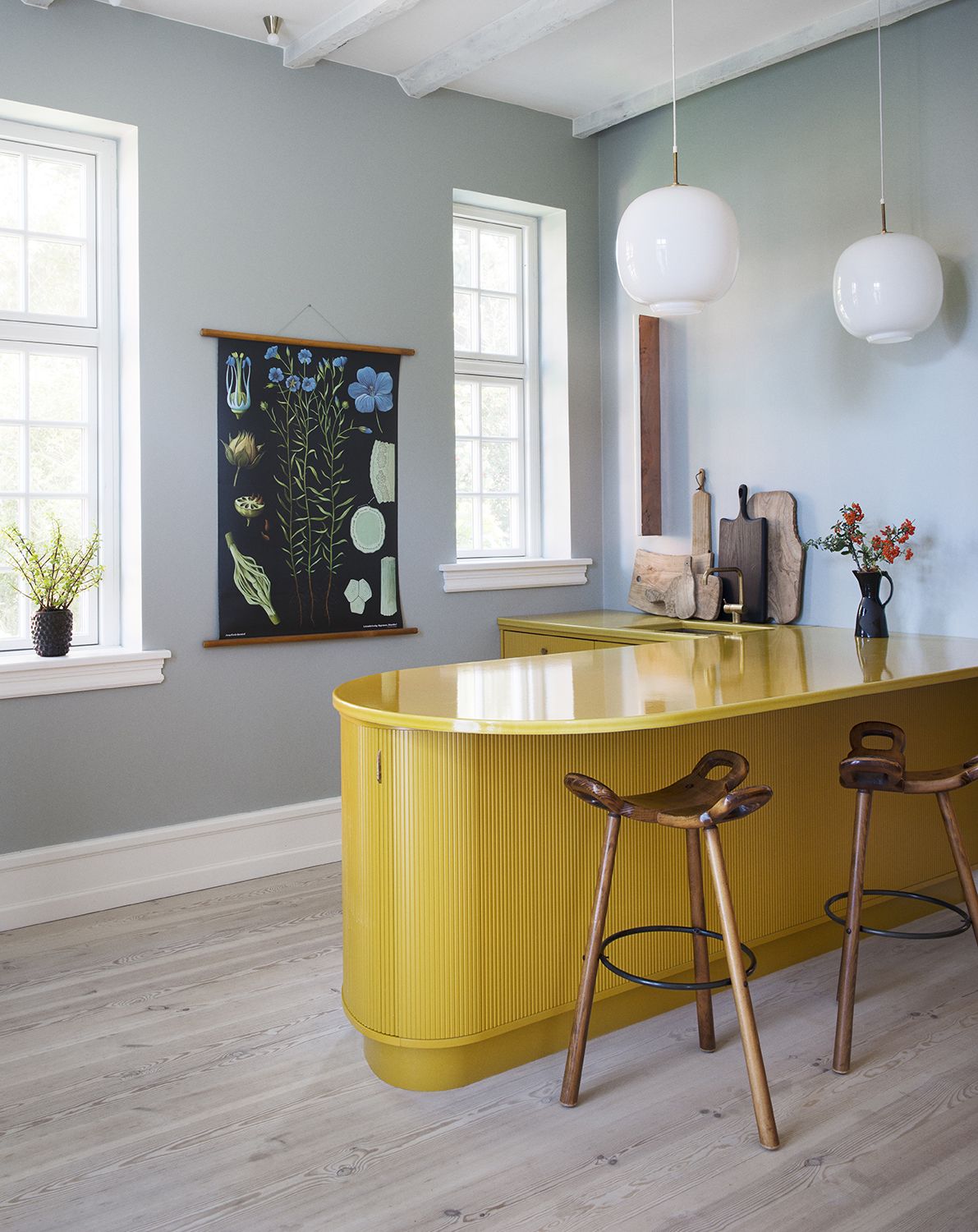 In this light, airy and hushed room, you might be tempted to consider gray kitchen ideas, keeping the ensemble neutral. But it isn't, and this bold addition of yellow enlivens the entire space.
This handcrafted drum kitchen is the work of Danish design studio and cabinetmakers Københavns Møbelsnedkeri, who created a striking curved island to take center stage in this glamorous space. "The beautiful organic shape gives the kitchen an inviting feel, and the cabinets are painted in a warm and inviting honey-mustard color, which was developed especially for the kitchen," say its designers, who have collaborated with the stone experts. Made A Mano countertop and shiny yellow lava stone tiling.
2. Color mid-height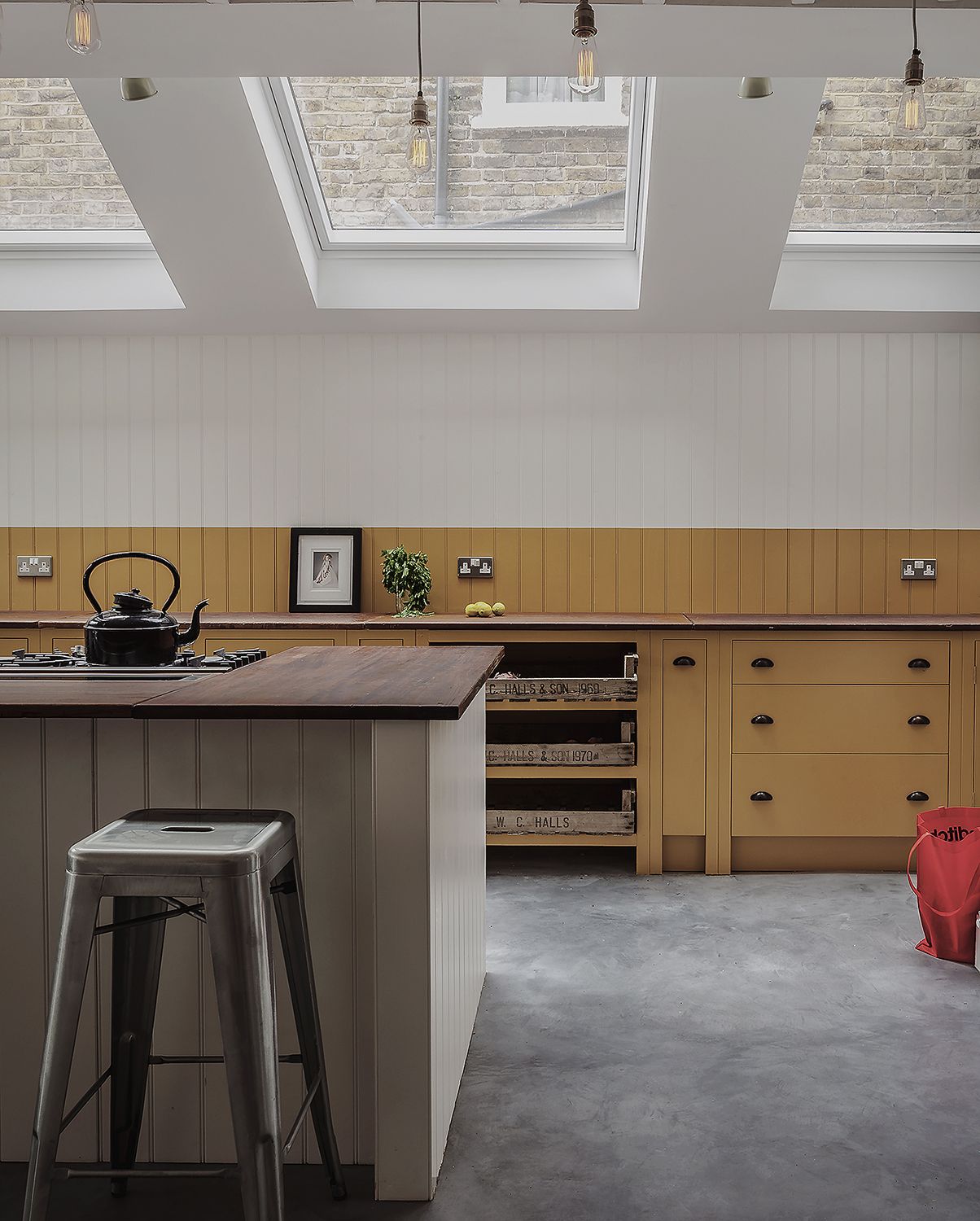 If you know how to paint kitchen cabinets, you can totally revitalize your space – you don't have to take yellow all the way to the ceiling. "We often use a tide line paint effect, where the cabinet color extends above the countertop to eye level, creating a continuous line around the room," says Adrian Bergman, Manager design at Plain English. Adrian goes on to explain that the technique works particularly well in rooms with high ceilings, as it lowers concentration and anchors the woodwork. Here, the muted yellow hue has the added benefit of injecting color and personality without taking over the space.
3. Choose a sunny yellow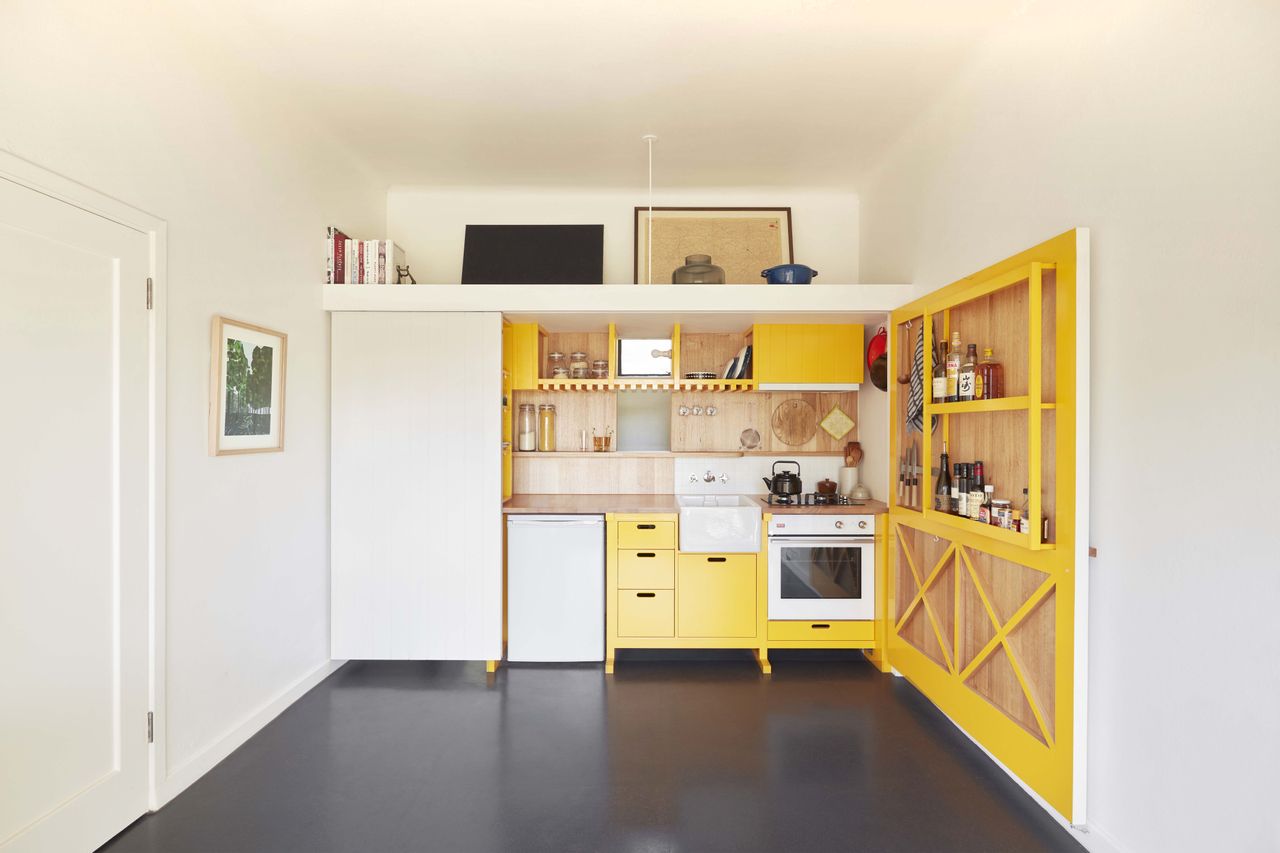 When architect Nicholas Agius of Agius Scorpo Architects designed this cleverly configured 'toolbox' kitchen for a micro-apartment in Melbourne, he chose a brilliant yellow hue for the woodwork. Color has been used to accentuate the details of the cabinets, shelving and picture frames, all of which are hidden away in a large white cabinet when the kitchen is not in use, the smartest of small kitchen ideas. "This highly visible 'signal yellow' is commonly used for heavy machinery, such as excavators and bulldozers," says Nicholas. "It reinforces the utilitarian nature of the kitchen, and the bright color means it really pops up when you open it. "
4. Bold vinyl floor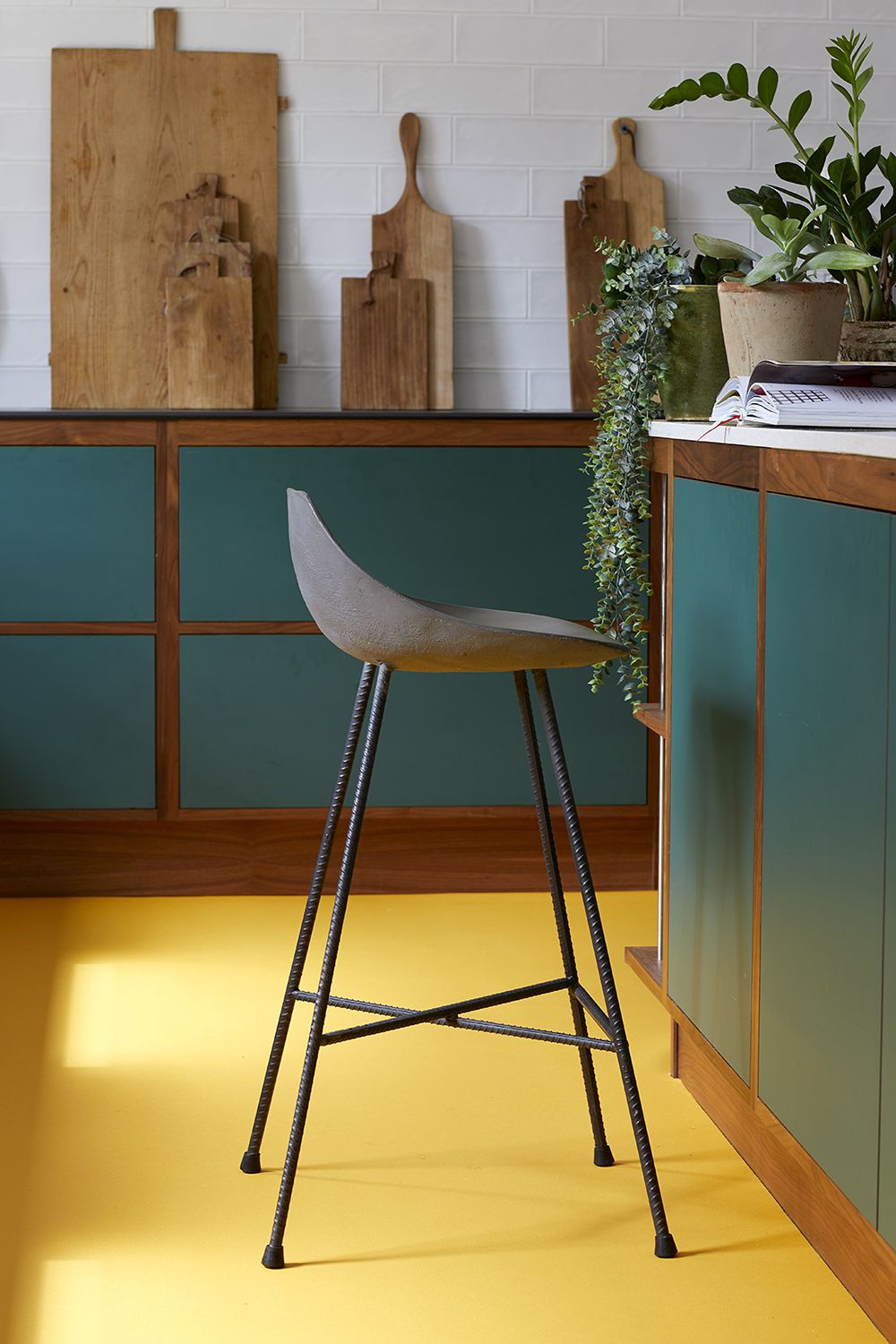 When it comes to the types of floors for a kitchen, you can add a real injection of color. "Vinyl flooring is an inexpensive way to add color to a kitchen without compromising on safety or quality," says David Snazel of Carpetright. "Kitchens are usually very busy, so it's best to go for durable flooring that is low-maintenance and will stand the test of time. In this space, the owners chose a tangy yellow vinyl from the True Colors line to complement the wood frame and teal front cabinetry. "The base teal colors are a mix of cyan, green and white, which makes yellow a perfect foil for this scheme," David adds. "The combination is eye-catching and playful at the same time. "
5. Saffron yellow tiles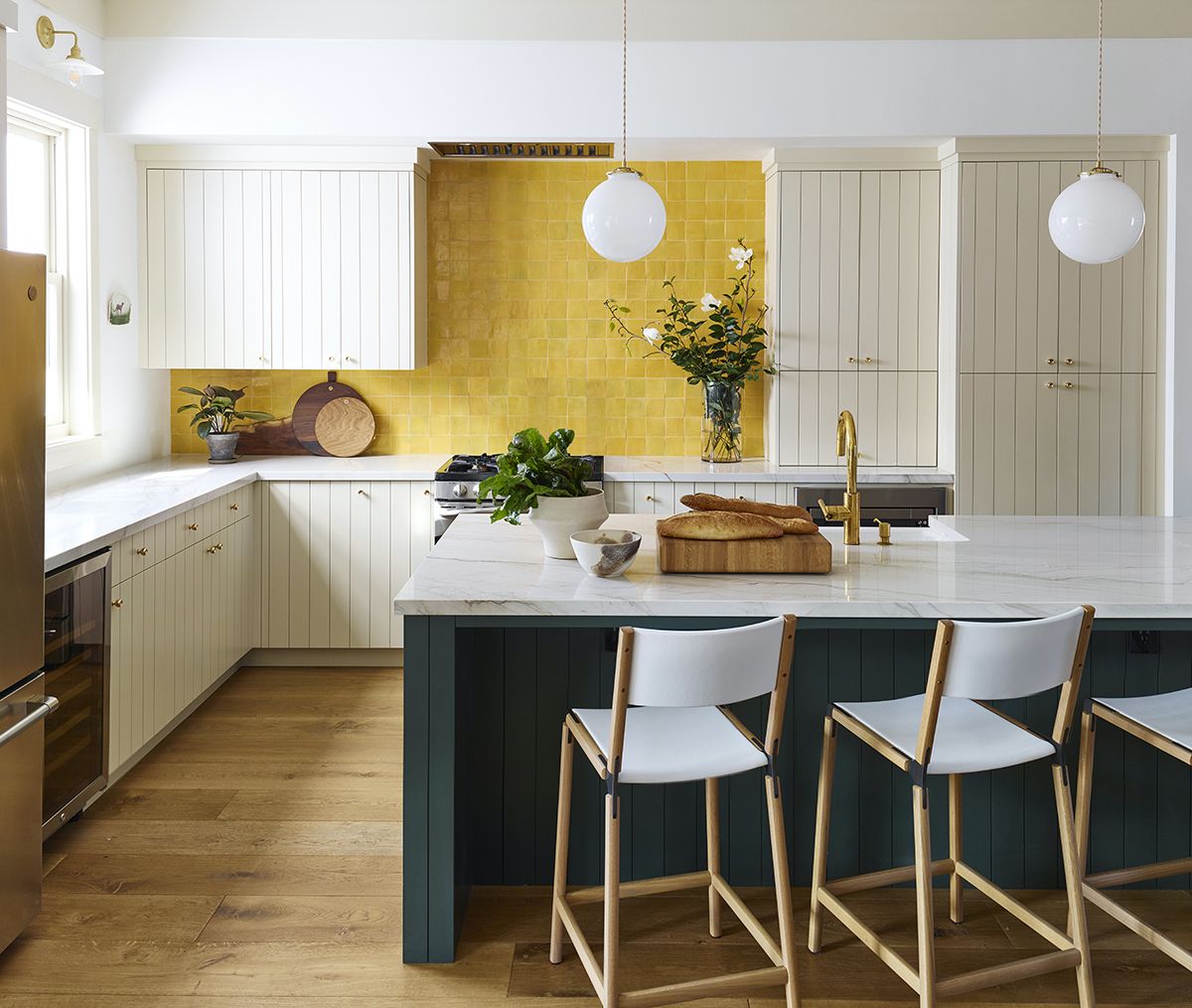 "We love the saffron hue of this authentic zellige tile for its ability to energize spaces like this," says Sarah Lonsdale, Senior Creative Director of California tile brand Clé, speaking on kitchen tile ideas used here. The home's interior designer, Lynn K. Leonidas, selected Clé's "Indian Saffron" colourway to break up the cream-painted cabinetry of this shaker-style kitchen. "The natural color variation of the zellige tiles helps soften the contrast," Sarah continues, "while the glossy glaze highlights the perfect imperfections inherent in the handmade tile, acting as a counterpoint to the strong vertical lines of the cabinetry. . "
6. Add color to compact spaces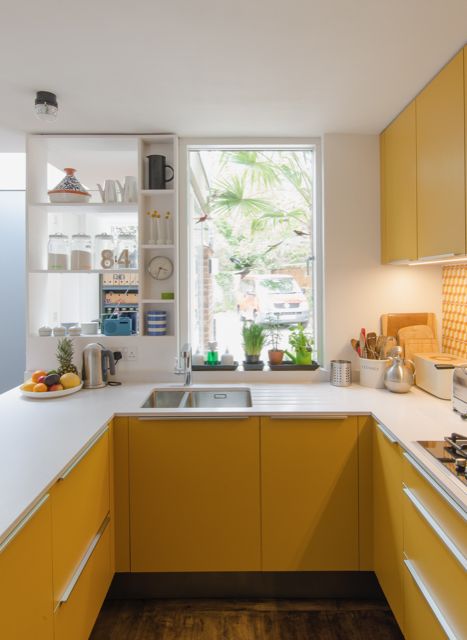 Revised as part of a thoughtful overhaul, this cheerful U-shaped yellow kitchen was made by South London firm R2 Studio Architects, who remodeled and enlarged this 1960s home. A palette of red, yellow and blue now defines the space – part of a plan for making small interventions while retaining the original modernist feel. "The kitchen is now boldly colored and forms the heart of the house," explains architect Frederik Rissom. "Natural daylight floods in, allowing vibrant colors to sing along and more subtly nuanced nuances to add depth to the color palette. The yellow used here shows just how much difference small kitchen paint colors can make.
7. Combine mustard and marble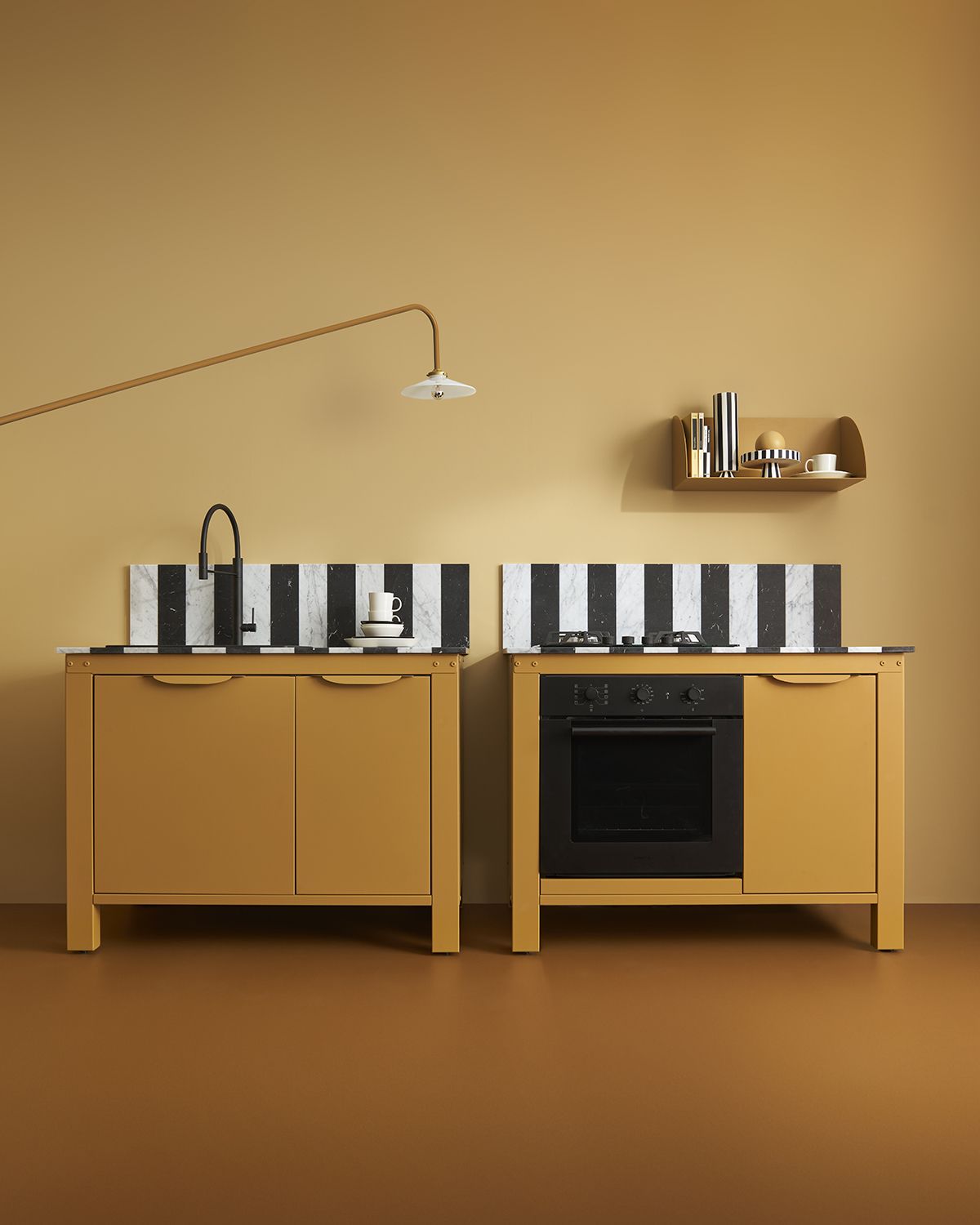 A contemporary reinterpretation of a classic kitchen, this light and modular steel design was designed by the Italian brand Very Simple Kitchen. The result of a collaboration with Swedish interior designer and color expert Tekla Evelina Severin, the kitchen pairs striped marble surfaces with mustard yellow units – a great way to elevate your white kitchen ideas. "I wanted to create a bright, spicy color to complement the marble and was inspired by the golden ocher paint traditionally used on wooden houses in Sweden," says Tekla, who developed the shade specifically for the project.
8. Change your kitchen fronts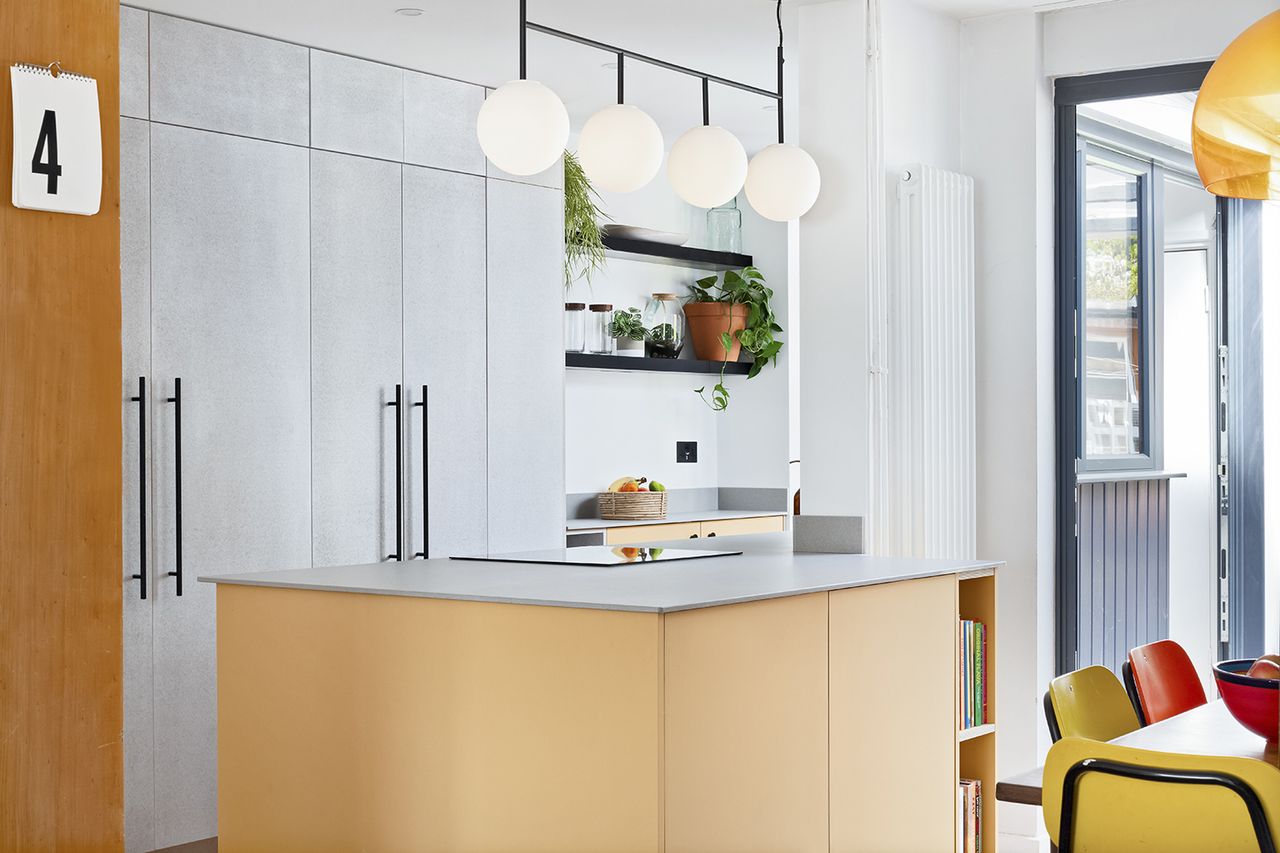 Looking for new fronts to try your own Ikea hack? Look no further than these clean and simple cabinet doors from Husk, handcrafted in the brand's Bristol workshop and available in a wide range of colors and finishes. "For this project, clients wanted something bright and minimalist, but still in keeping with the house's mid-century features," says Freya Celeste Gibbons, Husk's in-house kitchen designer. "The yellow complements the character of the property, while injecting excitement and warmth."
9. Mix yellow and black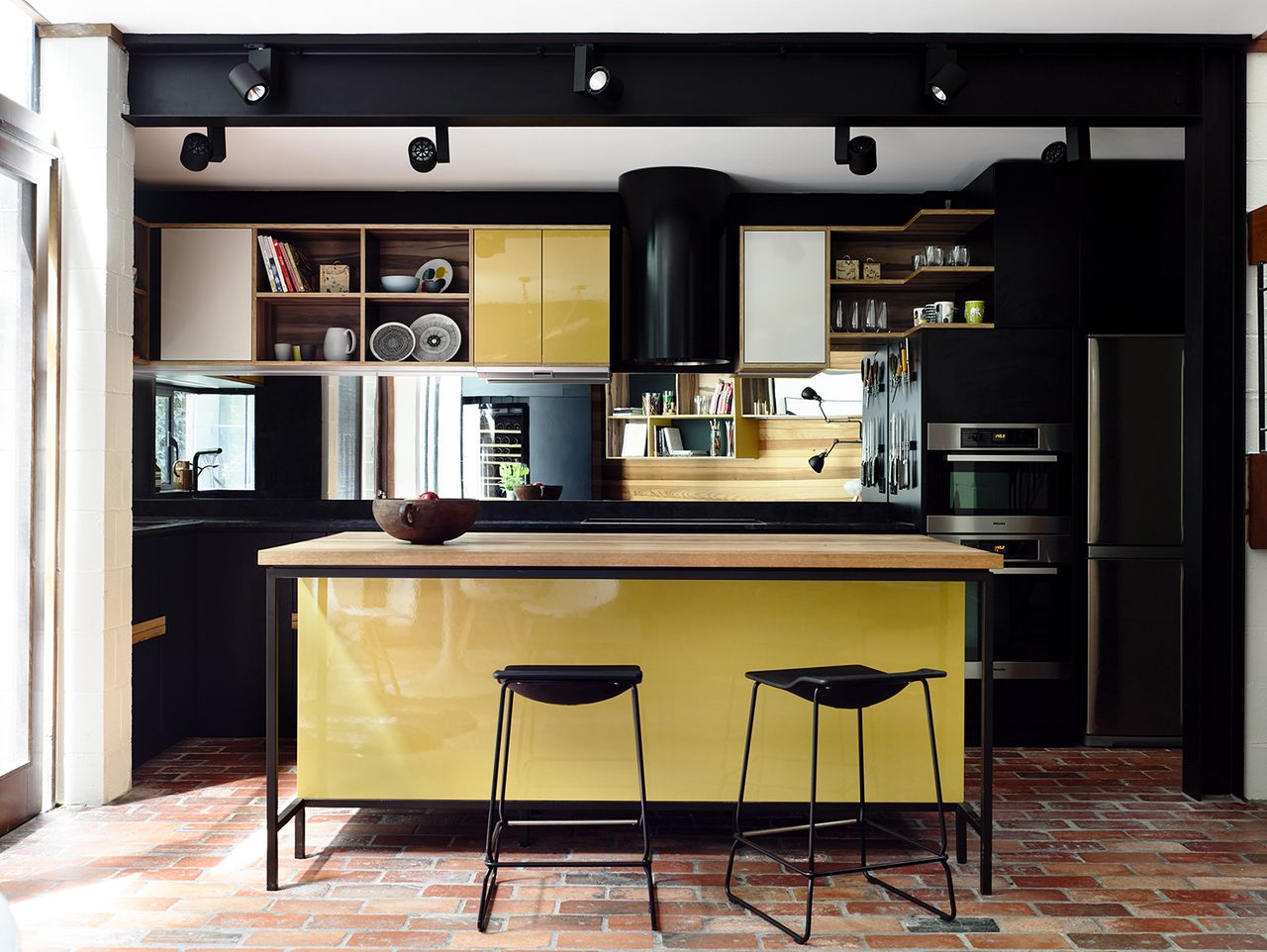 Yellow can easily accompany your black kitchen ideas, if you have a flair for the dramatic. "My client, Kim, loved the original 1970s architecture of her home. She also enjoys cooking and wanted the kitchen to be the heart of the home, "says Caecilia Potter, design director at the Melbourne studio Atticus & Milo. "Inspired by her vibrant personality, the original red brick floor and black steel frame, I sought to bring some sunshine to this cheerful space with bold touches of Dulux 'Yellowstone' on a gray palette. soft and black, "says the designer, who topped the shiny yellow island with an oiled eucalyptus worktop, a prime example of two-tone kitchen ideas.
10. Go for lemon sorbet cabinets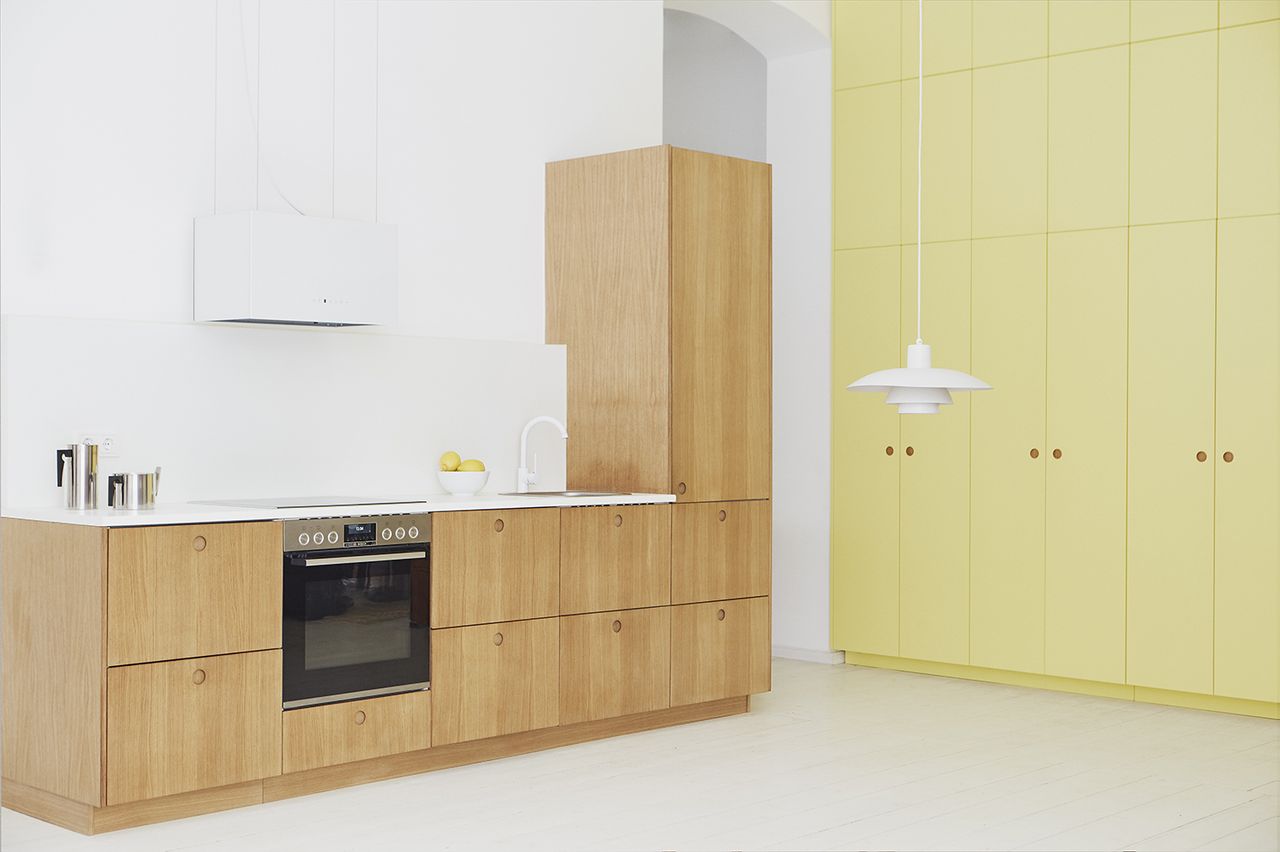 When Berlin couple César & Maria called on Danish brand Reform to design their new kitchen, one of the top priorities was to make the space lighter. "We liked the idea of ​​a bright color on the wall for the floor-to-ceiling storage and then a natural oak finish for the kitchen," says the couple, who also chose the color to give their apartment. 19th century look more modern. feel – Reform is known for their kitchen cabinet color ideas. "At first we were a little worried about the bold yellow because we chose it after seeing the smallest sample, but we're very happy with our wall of sunshine."
Does yellow look great in a kitchen?
Immediately inviting, yellow is the perfect color choice for kitchens of all sizes, from a spacious farmhouse-style space to a compact urban space. Whether you go for pops of color or painted cabinetry, this cheerful hue will fill your kitchen with warmth.
What color yellow is good for a kitchen?
There are tons of shades of yellow to choose from when choosing the right color for your kitchen. Be bold to showcase focal characteristics or add oomph to a small space. If bright colors are stepping out of your comfort zone a bit, try softer tones for an easier-going shade.