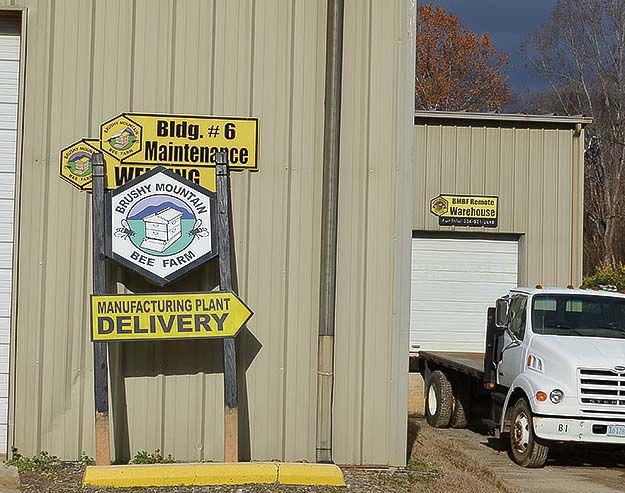 Brushy Mtn. Closed beekeeping farm; in receivership | New
Wilkes County-based Brushy Mountain Bee Farm, one of the nation's largest suppliers of beekeeping equipment, has been closed and its employees fired due to insolvency.
Brushy Mountain has also been placed in receivership, a lawsuit brought when a company is unable to pay its debts and / or suspends regular operations due to a lack of funds.
Enterprise Bank & Trust, based in Clayton, Mo., filed a motion in Wilkes Superior Court on November 16 to seek the appointment of High Point attorney James C. Lanik as receiver for Brushy Mountain Bee Farm. On November 26, Justice Angela Puckett signed an order of Wilkes Superior Court granting the motion.
The order says Brushy Mountain is insolvent because its assets are well below the more than $ 4.3 million it owes Enterprise in four loans.
Brushy Mountain borrowed $ 6.9 million in loans from Enterprise in 2014 and made its scheduled payments until it defaulted on September 30 by missing a payment, a complaint filed by Enterprise with the petition said. in receivership on November 16.
Enterprise sent Brushy Mountain a letter on Nov. 1 saying failure to pay the overdue loan within the additional five days would result in an "event of default." This predefined circumstance allows a bank to demand ("expedite") the full repayment of an outstanding loan balance before its due date.
The complaint says the overdue loan payment was not made within five days and Enterprise sent Brushy Mountain an "acceleration" letter on November 9 stating that the outstanding loan balance was due.
The Nov. 26 order said Brushy Mountain defaulted on an overdue balance of more than $ 4.3 million owed to Enterprise with interest still accruing. He said that as a secured creditor, Enterprise has the right to sell the assets of Brushy Mountain since they were used as collateral for loans made in 2014.
The assets include a 30,000 square foot manufacturing and warehousing plant with woodworking and metalworking equipment for the production of beekeeping equipment on Industrial Park Road in Wilkesboro. This property has an estimated county tax value of $ 643,100.
Brushy Mountain's assets also include inventory and equipment at retail facilities and leased warehouses in Wilsonville, Oregon, and New Columbia, Pa., As well as inventory and other equipment in County of Wilkes.
The assets do not include several buildings on 17 acres off Bethany Church Road in the community of Brushy Mountain which housed the company's trade offices, a local retail store, sewing operations (for the production of beekeeping clothing) and some other functions. This building is owned and leased to Steve and Sandy Forrest, founders and former owners of Brushy Mountain Bee Farm.
Brushy Mountain employed around 100 people, the majority of them in Wilkes, when it started cutting jobs and shutting down operations over a month ago. The company employed more than 100 people just over a year ago. The last part to close was the Bethany Church Road retail store.
Steve and Sandy Forrest started Brushy Mountain Bee Farm in the basement of their home in the community of Brushy Mountain in 1977, a few years after moving there. Previously, both were teachers in Iredell County. They hired their first full-time employee in 1981.
Shane Gebauer joined Brushy Mountain as Managing Director in August 2007, under an agreement that required him to become additional owner of the company each year. Gebauer grew up on a dairy farm in northern New Jersey and met the Forrests while working for another large beekeeping equipment company.
Fueled by the growing popularity of beekeeping, Brushy Mountain continued to grow and opened a 12,000 square foot distribution center in Pennsylvania in 2009. It was selected by "Business North Carolina" magazine as the Small Business of the year the same year.
The company worked with the Industrial Extension Department at North Carolina State University and the North Carolina Small Business and Technology Development Center (SBTDC) at the State University of North Carolina. Appalachians to become more efficient and improve sales.
The manufacturing plant on Industrial Park Drive opened in 2013, with help from a $ 250,000 Small Business Assistance Grant from the North Carolina Department of Commerce and a $ 150 grant. $ 000 for the reuse and restoration of the North Carolina Rural Economic Development Center buildings.
Also in 2013, Forrests and Gebauer were named NC Small Business People of the Year. Steve Forrest was CEO, Sandy Forrest was Secretary / Treasurer and Gebauer was COO at that time.
In September 2014, the Forrests officially retired and Gebauer became president of Brushy Mountain. Gebauer is also near the end of a year as chairman of the board of directors of the Wilkes chamber of commerce.
Also in September 2014, the Forrests sold their controlling stake in Brushy Mountain to Hadley Capital, based in Wilimette, Ill., Or indeed to BMBF Holdings Inc., based in Delaware, a holding company formed by Hadley.
According to its website, Hadley is a small private equity firm that invests in or acquires companies with annual sales of $ 5 million to $ 30 million. Gebauer owned 30 percent of Brushy Mountain when the Forrests were sold to Hadley.
Hadley's website stated that "Gebauer… wanted to buy the business and needed a partner to help finance the purchase. Hadley Capital provided the capital to purchase the business, and the partnership helped the business grow on the West Coast by acquiring Ruhl Bee Supply. Hadley Capital also provided financing for the purchase of equipment to help the company increase production.
Ruhl Bee Supply, based in Wilsonville, Oregon, became a division of Brushy Mountain when it was acquired by Hadley.
No Brushy Mountain asset may be sold or assigned without Lanik's written consent or a court order, depending on the order designating it as receiver.
The order details Lanik's obligations with the assets and states that he will be paid $ 325 per hour, plus reimbursement for personal expenses. He said his salary will come from assets.
The order stated that Brushy Mountain and BMBF Holdings Inc., also a defendant, had been informed of Enterprise's plan to appoint a receiver. He said all other parties who may have an interest in the assets have been notified.
The wording of the court documents indicates that Enterprise takes precedence over Brushy Mountain's other creditors.
Lanik could not be reached for comment at press time.