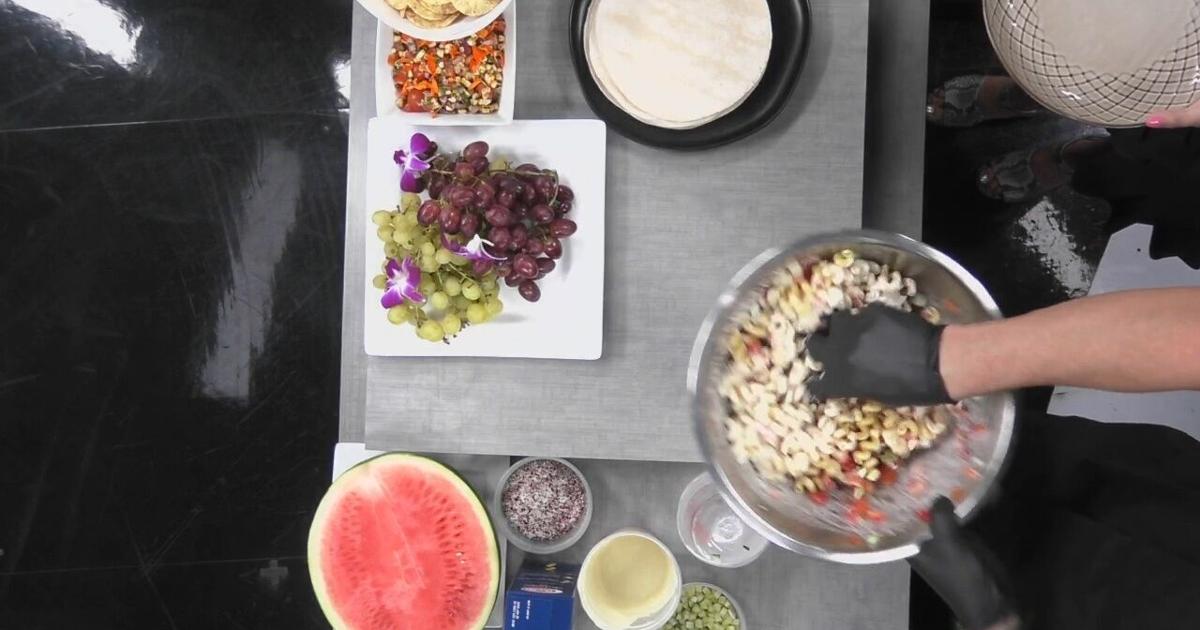 Chef Kyle Fields Shares Budget-Friendly Back-to-School Meal Ideas | Morning
LOUISVILLE, Ky. (WDRB) — With the cost of groceries rising, Chef Kyle Fields of Crushed Ice Catering shares his tips and recipes for saving money while eating well.
In the first segment on WDRB in the Morning, Fields shows options for livening up sandwiches and sides. Add bananas to your peanut butter and jelly, and swap the ranch for Green Goddess dressing to go with your carrots.
Apple slices also go well with Greek yogurt and make it even sweeter with a drizzle of honey.
For options you can make earlier in the week, Chef Fields shared his pasta and fruit salad recipe.
Pasta salad
1 box of dry Cavatappi pasta
1 ripe tomato, diced
2 celery stalks, finely diced
1 red bell pepper, diced
4 oz cucumber, seeded and finely diced
8 oz of dressing you like – I recommend Creamy, Balsamic Italian or Green Goddess dressing!
Salt and pepper as needed
Extra virgin olive oil or vegetable oil (for the pasta)
Bring a pot of water to a boil, add 2 tablespoons of salt and add the pasta, stirring constantly until cooked. Check the doneness of the pasta by cutting a noodle in half. If the white ring in the center is gone, drain the pasta but don't soak in the water, as this will remove some of the starch needed to bind the ingredients. Toss the pasta in a bowl with a little oil and lay it out to cool on a baking sheet. Once cooled, mix all remaining ingredients together and season with salt and pepper to taste.
Fruit salad
16 oz watermelon, diced
8 ounces sliced ​​strawberries
8 ounces blueberry
8 ounces cantaloupe
16 ounces of pineapple
8 oz of red or green grapes, or both!
Be sure to wash all fruit before cutting and blending. Mix the ingredients together in a bowl and refrigerate.
Chicken Tacos
4 tortillas, flour or corn (depending on your preference!)
2 chicken breasts, 6-8 oz (season and cook as desired, then cool the meat completely and break it apart to add to the sauce)
1 can 12 oz diced tomatoes, juice reserved
1 red bell pepper, roasted and seeded
1 jalapeño, roasted and seeded
8 oz yellow onion, finely diced
1/2 ounce cilantro
1/2 cup grated cheese of your choice
Cooking oil for stir-fry
In a skillet over medium heat, pour 1 tablespoon of oil of your choice, then add the onions. Season with kosher salt and black pepper. Add a few chili flakes if you want to turn up the heat! Cook until golden, then add red pepper and jalapeño, sauté together until just warm. Add diced tomatoes and cook until lightly caramelized. Add the tomato juice and cook until just warm, then puree or mash these ingredients together off the heat and add the cilantro. Add the chicken and stir. Cool the mixture completely, add the grated cheese, mix, then roll them in the tortillas. I recommend reheating the tortilla first to prevent it from tearing!
corn salsa
1 corn on the cob, grilled then cut on the cob
2 ripe tomatoes, finely diced
1 jalapeño, seeded and diced
4 oz red onion, finely diced
1/2 oz cilantro, finely chopped
1 lime, juice
Salt and pepper to preferred taste
In a bowl, add the onions, season with salt and pepper. Let sit at room temperature for 10 minutes, letting the onion sweat. Add the jalapeño, tomato, corn, cilantro and lime juice. Mix well and add more S&P if preferred.
Enjoy!
Click on here to connect with Crushed Ice Catering.
Copyright 2022 WDRB Media. All rights reserved.