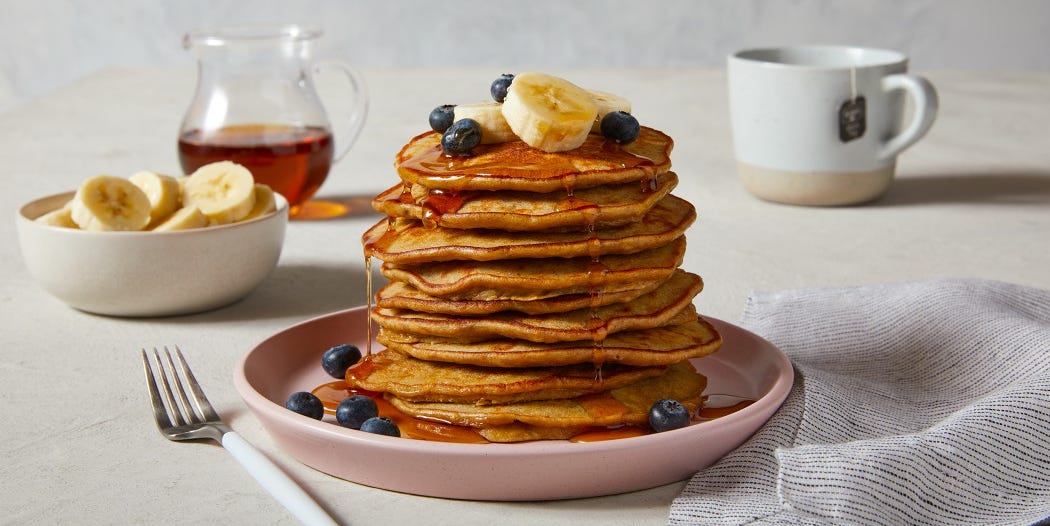 Creative and Inexpensive Back-to-School Breakfast Ideas
Every parent simply wants the best for their child, and that includes what they serve at mealtimes. But when you're scrambling to get the whole brood out before you've even had your first sip of coffee, it can be hard to find the time and energy to come up with fresh breakfast ideas to keep the whole family happy, picky palettes included.
Because this daily fuel is so important to setting your little ones up for success in school, we've partnered with ALDI to give you easy-to-prepare, kid-approved morning meal ideas. There's something new and delicious to serve up every day of the week, with minimal effort and planning, so you can keep going through your to-do list. Now it's a win-win.
Oatmeal owl
If you're celebrating a special occasion or have managed to squeeze in a few extra minutes in the morning, make oatmeal a more appealing and complete meal by adding creatively placed cut-up fruit. A few slices of strawberries and bananas, as well as some blueberries and apples will do. In a bowl of ALDI Simply Nature Organic Apple Cinnamon Instant Oatmeal, place two strawberries — point up — at the top to make the eyebrows. Underneath, place two banana slices for eyes and garnish with a blueberry each. Just below, add another strawberry, point down, to look like a nose. Next, cut three banana slices in half, so you end up with six half-moon shapes. Place them in a pyramid of three, two, then one under the eyes. Finally, add a slice of apple to both sides of the bowl.
banana popsicles

Popsicles for breakfast? Kind of! Peel off a banana, then pierce it with a Popsicle stick. Roll the banana in melted almond butter (a few seconds in the microwave will do) and ALDI Simply Nature Organic Dark Chocolate Almond Granola. Put everything in the freezer and serve the next morning.
Chocolate Chip French Toast
What child would say no to chocolate for breakfast? Give a delicious twist to French toast by dipping slices of ALDI Specially Selected Chocolate Chip Sliced ​​Brioche Bread in your French toast egg mixture and cook in a pan until set.
watermelon pizza
To make this healthy, yet undeniably fun breakfast, arrange eight watermelon wedges in a circle, then add savory toppings. Spread it all with ALDI's Specially Selected Indulgent Vanilla Greek Yogurt, and sprinkle with extras like granola, blueberries and shredded coconut. Older children may want to DIY their own pizza.
Toasted sandwich with almond butter, honey and banana
If your kid doesn't care for eggs, this is a great way to sneak in some protein. Swipe some ALDI Simply Nature Creamy Almond Butter on one side of the bread, then drizzle it with a touch of honey and place a thinly cut slice of banana on the other. Sandwich the two pieces together and brown them in a pan with a little butter. The result is an ooey-gooey sandwich the kids will love.
The egg in the hole
You can make this classic breakfast even more fun by using shaped cookie cutters to create the hole in the bread before adding a ALDI Simply Nature Grade A Cage Free Organic Brown Egg. Try a gingerbread man or snowman in winter; a sun or a pineapple in summer; a heart or a star every month in between.
Breakfast smoothie
While your standard smoothie is certainly a delicious option, it can start to feel ho-hum. Spice things up by adding some green spinach to ALDI Pick of the Season Berry Mix. Next, pour the nutrient-rich smoothie into a clear glass and add a pretty paper straw or fruit garnish.
pancake rolls
Prepare a batch of ALDI Aunt Maple's Protein Pancakes as you normally would, but make each crepe a little bigger and thinner than you would otherwise. While the pancakes cook, mix a little sugar with the cinnamon, using about ¼ cup cane sugar and 1 teaspoon cinnamon. While the pancakes are still warm, sprinkle each with a little cinnamon sugar, then roll them up.
Rainbow yogurt parfait
Place some Winner of ALDI Fan Favorites Specially Selected Indulgent Greek Yogurt in a bowl and add a layer of rainbow colored fruit — blueberries, raspberries, green grapes or another ALDI fan favorite, mangoes. Garnish with a little ALDI Simply Nature Organic Coconut Chia Granola for more crunch. You can cut and assemble most of this make-ahead breakfast the night before. So all you have to do is take it out of the fridge in the morning and top it with granola.
This content is created and maintained by a third party, and uploaded to this page to help users provide their email addresses. You may be able to find more information about this and similar content on piano.io