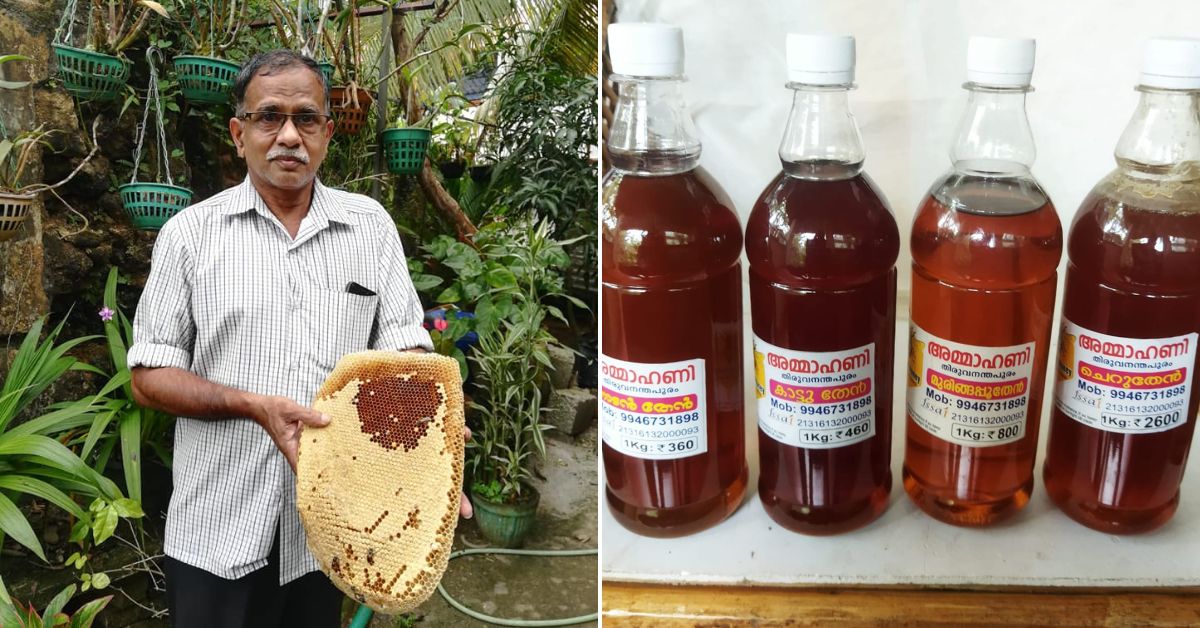 Kerala Mechanic launches 'buzzing' business and harvests 1,500kg of organic honey
Three decades ago, when Bensislas was working as an electrical mechanic, he never imagined that one day he would get into beekeeping and find success there.
Although he is good at repairing televisions and radios, Bensislas, a resident of Vattiyoorkavu in Thiruvananthapuram, says he had to give up his job after losing the sharpness of his vision, which was essential for the type of work he does. 'it was.
"I started working as a mechanic when I was 25. But after a few years, I noticed that my eyesight had reduced, which started to affect my work. So I had no choice but to quit my job," explains Bensislas, who then decided to try his hand at farming.
He began with rubber cultivation and, over the years, experimented with animal husbandry; raising rabbits, ornamental fish, chickens and finally bees. He says that beekeeping is the only profession in which he has succeeded.
Cut to 2022, Bensislas is now a full-time beekeeper and has been able to harvest around 1200 kg of honey per year, thanks to his brand – Amma Honey – thus earning a decent income in lakhs.
A successful experience
After quitting work as a mechanic, Bensislas says he decided to sell his land to buy a rubber plantation at Kallikkad in Thiruvananthapuram, expecting a stable source of income.
"I used all my savings to buy three acres of rubber plantation, and it paid off, at least for a few years. Later, at some point, there was a huge drop in the price of rubber and I struggled a lot, as I had no other means of income or savings left. It has become a necessity to look beyond the mere cultivation of rubber," explains the 58-year-old.
It was then that he heard about the training provided by the Kudappanakunnu Livestock Management Training Center. So, he decided to try his hand at animal husbandry after completing the free training courses.
"I learned to raise rabbits, fish, goats, chickens, etc. in the center and started trying each one. But none of my efforts succeeded. I faced loss after loss. Finally, I heard about the scope of beekeeping and decided to experiment with that as well," he recalls.
So in 2010, Bensislas took beekeeping training and set up his first five huts in his rubber plantation in Kallikkad.
"Although I had an initial training in beekeeping, I came to realize that it was not enough to succeed. In the beginning, there were several cases where I lost boxes full of bees because I was an amateur. But I was determined to try again and kept new boxes," he says, adding that over time he learned more tricks of the trade and eventually mastered it.
When it comes to beekeeping, there are a lot of things to take care of, says Bensislas, who is now proficient in beekeeping and has more than 180 hives placed in different locations.
"From the quality of the boxes to the site of its placement, there are many nuances that require special attention when it comes to beekeeping. I've learned that over the years and had a good share of experiences where I had to endure bee stings," he says, recalling an example from the early days when a bee pricked the face.
"I couldn't leave my house for two days because of my swollen face," he laughs over the phone. "But now it's a piece of cake, because I have a good understanding of their behavior," he adds.
Bensislas currently places his hive boxes on his three acres of rubber plantation as well as a moringa farm in Tirunelveli in Tamil Nadu.
"The quality of the honey produced by bees depends on the species of bees as well as the source from which they collect the nectar," he points out, adding that there are different types of bees among which he currently maintains indians and stingless. the bees.
Speaking of the placement of boxes or nectar sources, Bensislas says that the quality and texture of the honey are heavily influenced by this. "Wherever we place the box, the bees try to get nectar from its immediate environment. So it is important to see where we place the boxes. I place my boxes in my rubber plantation as well as in a farm of moringa according to the season of leaf formation and flowering.He says that the source of nectar in rubber is the tender new leaves, and for moringa, it is the flowers.
What is Moringa Honey?
Moringa honey is a specialty of Bensislas. It is a unique type of honey obtained by bees from the nectar of moringa flowers during the flowering season.
Moringa honey has a thick consistency, a dark color and a unique woody flavor. Also, it contains all the nutritional benefits and benefits of the moringa plant.
Moringa leaves are full of several nutrients like vitamin C, calcium, iron, magnesium, amino acids, proteins, etc. In addition, they are rich in antioxidants with strong anti-inflammatory properties.
"Moringa honey is therefore healthier than normal honey," says Bensislias, who, along with a few other farmers, has collaborated with a moringa farm in Tirunelveli, where they place their boxes each season, giving money to the owners. .
"The moringa flower season is usually during the months of July to December. So after harvesting the moringa honey, I place the boxes in my rubber plantation around February until April, which is the season for leaf formation," he explains, adding that he receives about 11 at 12 kg per box each season. of honey from each box.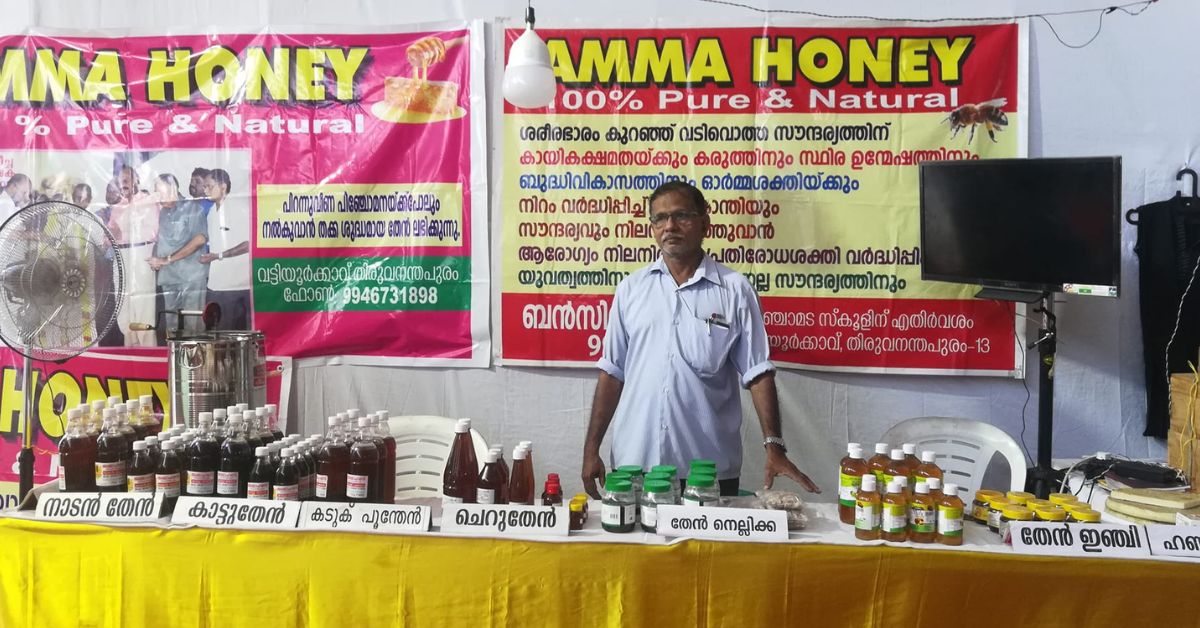 Besides rubber honey and moringa honey, Bensislas also collects stingless bee honey from a few boxes placed around his house and also from the houses of a few relatives. "Every year, I get about 1,500 kg (1.5 tonnes) of honey," says Bensislas, who sells rubber honey at 330 rupees per kg and moringa honey at 750 rupees per kg.
Dr. TV George from Thiruvananthapuram is a regular client of Amma Honey. He says the quality of the honey is excellent because it is organically grown. "It's been ages since I switched to honey instead of using sugar because it's a healthier option. I've been buying from Bensislas for a few years and the quality of the honey has always remained consistent. I buy it usually in bulk and that's a relief, because it's usually hard to find pure honey on the market," explains the septuagenarian.
Amma Honey also sells some value-added products such as honey garlic, honey bird chili, honey dates, beeswax, etc. "I have never had to do any marketing for honey because it is done by word of mouth and people usually buy it directly from me. I earn around Rs 15,000 to Rs 20,000 per month to sales," explains Bensislas.
Edited by Divya Sethu