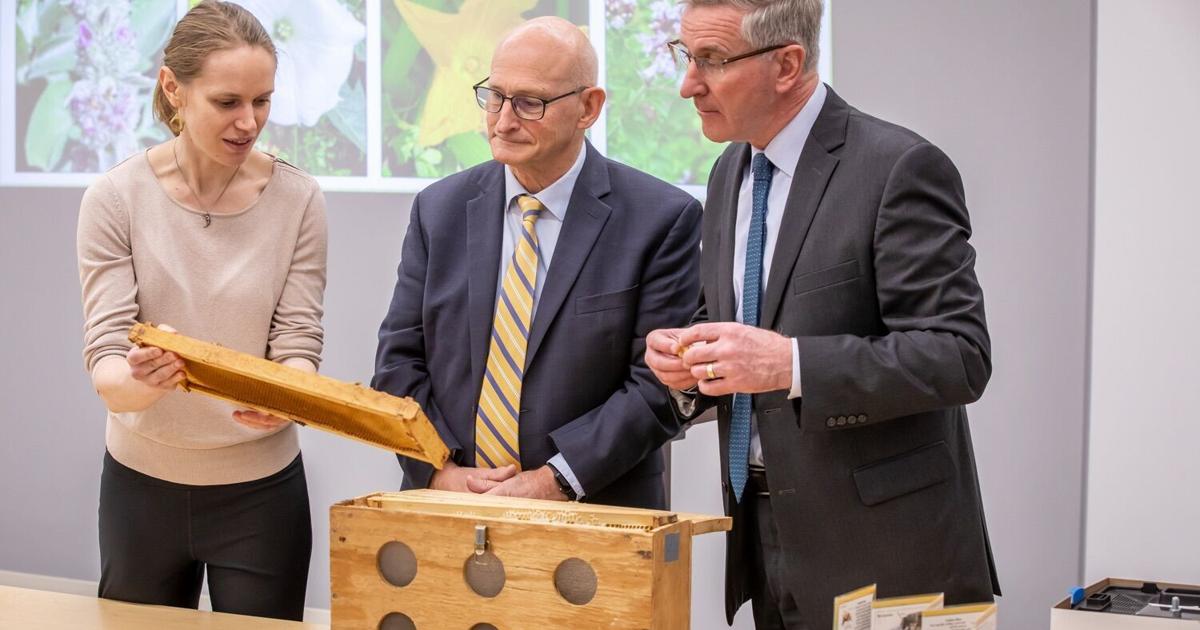 Pennsylvania funds pollinator research to help honey production | News
UNIVERSITY PARK — Agriculture Secretary Russell Redding was joined by the Dean of Penn State's College of Agricultural Sciences to highlight nearly $1 million in state investments to boost the competitiveness of specialty crops from Pennsylvania.
On Monday, they joined researchers whose projects benefit pollinator health and help make Pennsylvania honey more competitive.
"Pollinators are critical to the success of Pennsylvania agriculture; one in three bites we eat is due to pollinators," Redding said. "Honeybees are a critical part of this narrative, but they are also key to developing new markets for specialty crops."
He said supporting honey research and promotion through the Pennsylvania Specialty Crop Block Grant allows the state to grow its honey market while supporting research that will benefit pollinator health — and to all agriculture in Pennsylvania.
State Specialty Crops Block Grants funds specialty crops not eligible for the federal Specialty Crops Grant program and those designated as high priority crops in the state: hemp, hops, hardwoods, and honey as well as barley , rye and wheat for distillation, brewing and malting.
Eligible projects improve the competitiveness and sustainability of specialty crops through research to increase conservation and environmental outcomes, improve food security, develop new and improved seed varieties, or improve pest and disease control.
The Grozinger Lab, part of the Center for Pollinator Research at Penn State, received a grant to increase the competitiveness of Pennsylvania honey in the market by identifying the unique floral origins of honeys.
The lab uses DNA barcoding technology to trace pollen grains as botanical fingerprints, allowing beekeepers in Pennsylvania to authenticate varietal honey, such as alfalfa, buckwheat and clover honey. Using Beescape's Geographic Information System (GIS) tools, the lab will also analyze habitat trends and threats affecting foraging bees.
The Grozinger Lab is one of 23 projects in 11 counties to benefit from the state's Specialty Crops Block Grant, which awarded nearly $1 million in fiscal years 2019-20 and 2020-21. .
Rick Roush, dean of agricultural science at Penn State, said the grants support a multidisciplinary team to leverage various technologies, including genomics, software engineering and machine learning, to help beekeepers, growers, land managers and the public to map and predict floral resources. different species of bees use.
"This knowledge is important for designing pollinator habitats that support bee health, productivity and pollination services," he said.
Roush noted that research is essential to preserve the pollination responsible for the production of many nutritious foods and the production of seeds to maintain the diversity of plant species.